The Neighborhood Club Fireplace+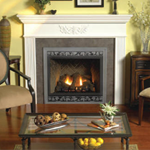 At At Home Heating and Air we believe that you should know all your heating options available before investing in a system for your home, and fireplaces are one of those options. Gas fireplaces are extremely easy to use and safely add the warm glow of a fire to your home anytime. Now exclusively available to our Neighborhood Club members is our Neighborhood Club Fireplace+ plan, which offers the ability to add coverage for your gas logs onto your current plan for just $10 per month for each gas fireplace in your home.
Your Neighborhood Club Fireplace+ includes:
Annual Maintenance & Safety Inspection
Gas fireplaces require far less maintenance than wood burning fireplaces but should still be properly maintained and adjusted by a professional. Having your gas logs checked annually enables us to keep your fireplace running safely and as efficiently as possible. At your annual fall maintenance, we will conduct a thorough inspection of your gas fireplace components. This includes carbon monoxide and gas leak detection. We also check for correct log placement and ensure your logs aren't burning too hot.
Reduced Dispatch Rates
Our Neighborhood Club Fireplace+ members only pay a $79 dispatch and diagnostic. (Regular Price $149)
Discounted Parts and Labor
Our discounted rates save you money with every service call. Our repair trucks are fully stocked so we are able to repair 99% of calls on the first visit.
Discounted Gas Log Installation
You will receive $50 off any gas insert replacement or installation. We can install a wide variety of styles for the log designs in order to make your fireplace look exactly how you want it.